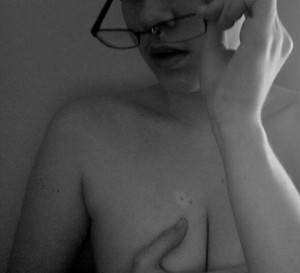 photo courtesy of Lila
Welcome to e[lust] – Your source for sexual intelligence and inspirations of lust from the smartest & sexiest bloggers! Whether you're looking for hot steamy smut, thought-provoking opinions or expert information, you're going to find it here. Want to be included in e[lust] #14? Start with the rules, check out the schedule in the site's sidebar and subscribe to the RSS feed for updates!
~ This Week's Top Three Posts ~
Answers with an Agenda 1- Fisting – Once you've gotten started using two fingers for a bit, then it is time to build until four fingers are sliding in and out of the person, and you are on your way.
Gagged – I think it's got to be a combination… fingers sliding into your cunt, a merciless tease of your clit, and yes, it's going to have to be, lining my cock up with your ass.
Mine – I feel you stir beneath me as I create a rhythm, your breathing changing growing more shallow as you slip from sleep into arousal. My eyes lift to yours as you smile and try to move your arms and then freeze.
~ e[lust] Editress ~
Puppet Master – When I was right next to them and they still did not notice, I put my lips to his ear (loud music, you know) and whispered "Touch her boobs, I bet she'd like that" and I backed up a foot.
~ Featured Post (Lilly's Pick) ~
Shaping Some Limits – "If you ever did that to me, I promise you would never see me again".Those words were spoken to me this past weekend by my pet during one of our overnight dates. The subject was face slapping.
See also: Pleasurists #77 for all your sex toy review needs.
All blogs that have a submission in this edition must re-post this digest from tip-to-toe on their blogs within 7 days. Re-posting the photo is optional and the use of the "read more…" tag is allowable after this point. Thank you, and enjoy!
Kink & Fetish
One Couple's Journey into Kink, part 2
Please hurt me unbearably, you fucking fucker!
Thoughts & Advice on Sex & Relationships
How Fear can Lead to Understanding and Trust
Tyler and Holly Give Swing Clubs Another Chance
The Virgin in the Family/Do Not Enter
Erotic Writing
All Dressed Up – The Party ….part 2
Not Tonight Dear, I've Got A Headache (Part 2)
Sex News, Interviews, Politics & Humor
Eden Fantasys Newbie Help Guide
Workshops and More at the ALCC
This content is published under the Attribution-Noncommercial-No Derivative Works 3.0 Unported license.